A good IT specialist will help you create your business systems to be efficient and scalable as your business grows over time. As such, it's essential to choose the right one for your needs, as you'll be working with them daily. An IT specialist job description can help you learn more about what skills, education, and personality traits make the best fit for your business, so you can select an IT specialist that will work well with your team in the long term
What is an IT specialist?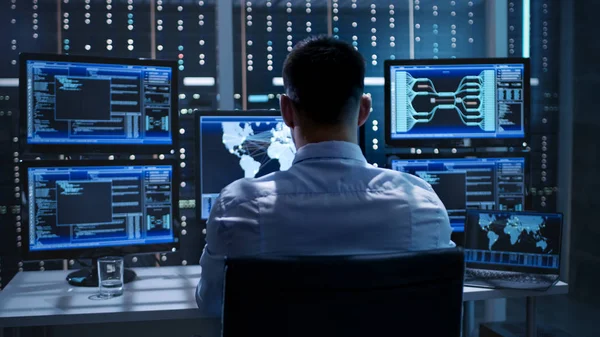 IT specialists are computer specialists who help businesses with their computer-related needs. From repairing computers to setting up networks, an IT specialist is a jack of all trades for technology.
An IT specialist will be able to help you troubleshoot any issues you may have on your network and provide tips for keeping your business safe from cyber threats.
IT specialists maintain and operate an organization's computer systems. They have to keep everything running smoothly and efficiently so that those with whom they interact (the business owners) can do their jobs effectively.
IT Specialist Job Description
An IT specialist is tasked with maintaining and supporting an organization's computer systems, networks, and software. IT specialists offer support to an organization's end users. That includes supporting hardware and software setup, solving network and data access problems, answering questions about hardware and software, and accessing shared drives and devices.
IT Specialist Duties and Responsibilities
An IT specialist is responsible for maintaining and improving an organization's technology systems. Their duties vary depending on their particular area of expertise and what they're specializing in.
Several responsibilities come with being an IT support specialist: hardware repair, software upgrades, creating policies and standards, programming new computer programs, and overseeing staff.
Other day-to-day responsibilities include troubleshooting hardware, software, network problems, and installing and maintaining hardware, desktop computers, and servers.
Other duties may include training employees on using computers, installing and supporting printers, backing up data files, setting up networks, and teaching computer classes.
Some specialize in specific tasks such as managing networks or teaching software applications to workers in a corporation or government agency. The information security of a business is the responsibility of IT professionals.
This goal is achieved by monitoring access records and implementing database security processes.
IT administrators may also implement antivirus programs, email security protocols, and frequent data audits and backups to prevent information loss and unwanted access to data.
As a business grows larger or more complex, additional experts are usually brought in to ensure that technology needs are met efficiently.
IT Specialist Requirements
To become an IT specialist, you'll need computer systems knowledge. Computer software training will be helpful; certification from Microsoft is highly desirable. Candidates must have good oral and written communication skills and a customer-service orientation.
Successful IT specialists also have strong management, troubleshooting, and analytical skills.
Familiarity with various security software and a degree in computer science, IT, or related fields may also come in handy.
If you already have experience as an IT professional, these traits will come easier for you. If not, don't worry—these skills can all be learned on the job with time and practice.
Why Choose Aptica LLC's IT Experts?
When your business grows, you need someone who can keep up with that growth. You need an IT support specialist job description to help you grow and stay on top of your technological advances in today's fast-paced world.
Our IT support specialists are trained and ready to provide you with all your needs for data entry, server maintenance, and so much more. We want to be there at every step of your business growth with our skills, experience, and ability to scale as your needs change and grow.
Let us show you how we can make a difference in your company by providing reliable, professional services to improve efficiency while saving time and money. Let us show you why Aptica LLC is one of Indiana's best-kept secrets for specialized IT solutions.
Call or email us today.